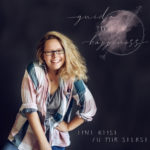 3
5 Challenges mache ich aktuell. 4 davon sind auf 30 Tage begrenzt, eine, na ja, du weißt es ja 🙂
Was für Challenges ich mache und vor allem auch mit welchem Ziel und warum und was das Ganze mit meinem inneren Kritiker und dem Glaubenssatz "ich bin nicht gut genug" zu tun, erzähle ich dir in der heutigen Folge.
Außerdem: Guten Morgen und welcome to the most beautiful day of your life!
Hier stelle ich dir zwei PDFs für deine 7- oder 30-Tage Challenge zur Verfügung. Einfach runterladen, ausdrucken und loslegen!
Außerdem findest du in den Highlights auf meinem Instagram-Profil 6-Tipps und ich stelle dir die PDFs dort noch mal für deine Instagram-Story zur Verfügung 🙂
---